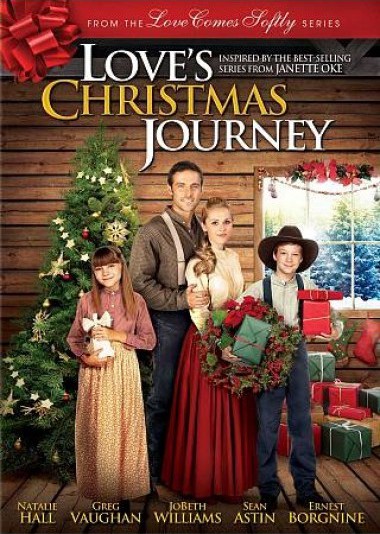 Love's Christmas Journey is definitely a girl's night out or family-flick movie. My three girls and I opted for a girls night out (night in, really). We picked an evening that dad would be gone, put baby brother to bed early and settled in for an evening of girl time on the couch. A quick look at the DVD cover, and I realized it was a two-part movie, totaling three hours of viewing time. I had plans to let them watch the first half that night and the rest the next day. But with three girls under the age of ten, you can imagine my plans didn't exactly pan out…
I haven't seen any of the other Janette Oke films in this series or read any of the books, but from the picture on the cover, I imagined a "Little House on the Prairie" style film. That's exactly what I got. Set in the pioneer days, Love's Christmas Journey centers around the lives of Ellie (Natalie Hall) and her brother Aaron (Greg Vaughan). Ellie lost her husband and daughter in a tornado, and now a few months later, has agreed to visit her brother and his children in a different city. The family enjoys her presence during the holidays because they had lost their mother some years prior. Shortly after her arrival, Aaron travels to the land office in a neighboring town and is robbed and left for dead on his way home. This story has a lot more to it, including a deputy (Dylan Bruce) who falls in love with Ellie, a conniving attorney (Charles Shaughnessy) who illegally collects land along the path he thinks the railroad will be built, a young man (Bobby Campo) who gets framed for arson, a little sub-romance between the young man and the mayor's daughter, and even a surprise visit from a favorite Christmas character.
This film is all you would expect it to be, complete with an intermission. It is the kind of film that shaped my childhood notions of romance, and I saw the same glint in my children's eyes when the main characters were falling in love. It's funny how perceptive children are about small glances, shy smiles,and body language. My five-year-old piped up on only the second cue, "She loves him!" And as the camera cut to the boy, my older daughter said, "And he loves her!" The romance aspect didn't bother me, however, because at least the boys were courteous and chivalrous. And when they weren't, the father came to his daughter's defense, challenging the boy to treat his daughter with more respect. I like that notion of romance, so if my kids are going to learn about it, why not learn from a good example? This was a good first introduction to romance for them, kind of like Laura Ingalls and Almanzo Wilder were for me.
It was also refreshing to see the infrequent use of Scripture and the avoidance of Christian clichés. Rather than forcing religious scenes into the story to beef up the theme, the story played out in a genuine way. Faith was simply a part of their lives and they made choices according to a Christian worldview. This story models, "Faith doesn't just happen on Sunday and then you go back to your regular life on Monday." Faith and life are intertwined in this story, and the faith elements are never contrived or forced.
Each character has one clear lesson to learn, so we get bonus lessons of trust, patience, honor, respect, consequence, faith and perseverance. That's a lot to pack into three hours, but it turns out to be a nice little package. I understand now why this series is so successful. Simplicity is the key. There are no big plot twists and complicated story lines, no dramatic character arcs or grey-area controversies. The good guys are good and the bad guys are bad, while the one guy on the fence just needs a little direction. Yes, it's predictable, but it doesn't offer the pretense of being anything else, so we seem to be fine with it.
Best of all, there's Ernest Borgnine. What great western doesn't include Ernest Borgnine? I always loved that guy. It's tragic that he died this year, but it's impressive that he never bought into the whole retirement philosophy. He performed this role at age 94. All of the actors played their roles very well, even the ones who played the children (Ryan Wynott and Jada Facer). Films are always more enjoyable when the acting is good and the characters are believable.
As for the intermission feature, well-meaning parents who want their kids to get some sleep might have to start earlier or revise their plans last minute. For us, it just turned out to be a good excuse to put some cookies in the oven and continue the party!
Talking Points with Kids:
Ages 0-5: When the people of the town wanted to cancel Christmas, who decided to keep it going? What impact did that have on the people? How can you encourage someone in your life who is sad or has given up?
Ages 6-12: (For girls) Which of the boys/men showed godly honor toward the girl they fell in love with, Michael or Erik? What things did each of them do that showed respect or disrespect for the girls? (For boys) Was it wise or foolish for Christopher to sneak out and go looking for his dad? How did he put himself in danger by doing so? If you were him, how would you have handled that situation?
Ages 12+: Like Erik, sometimes people are wrongly accused of crimes they didn't commit. How is the American justice system set up to try to avoid this, and is our justice system better than others around the world? Do you think the idea of a boy talking to a girl's father before dating her is outdated and irrelevant? How does it protect the girl? Does it also protect the boy?